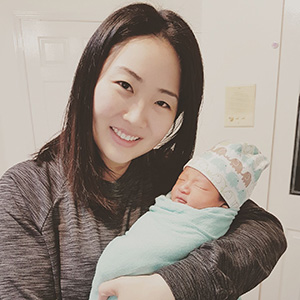 CLICK THE BUTTON BELOW TO RETURN TO THE EXPERTS PAGE
Registered Midwife
I'm a Registered Midwife and a mother of 2 boys. My passion for midwifery started early. I've always wanted to deliver babies as a profession. Up until 3rd year university, I thought the only way to do that was to become a doctor. I found midwifery after doing some research and it felt like a perfect fit for me. I graduated from Seattle Midwifery School now Bastyr University. I also have a bachelor of science degree in kinesiology from Simon Fraser University.
Both my boys were born at home with help from midwives. During my 2nd birth I remember my husband on one side of me and my older son on the other side helping me breathe. At the time, he was 4, now he is 6 years old. With their support, I was able to smoothly deliver my second child who is now 15 months old.
I love my job. I could not imagine doing anything else. It's such a privilege and honor to attend a birth. There's a sort of magic when the baby meets their parent or parents for the first time.
I used to be a Kinesiologist and a souls prior to becoming a midwife.