SHAHAA KAKAR & NASREEN GALAMHUSEIN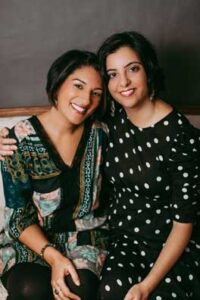 CLICK THE BUTTON BELOW TO RETURN TO THE EXPERTS PAGE
Registered Therapeutic Councellor
Breathing Space Counselling
Shahaa Kakar and Nasreen Gulamhusein are both moms, Registered Therapeutic Counsellors, and founders of Breathing Space Counselling -- a local, private counselling practice based in Port Moody. They started Breathing Space Counselling in 2016 out of their shared passion to create a supportive, safe and connected place for mothers to put down their responsibilities for a short time and focus on their own inner work. They knew from their own experiences how lonely motherhood could be and how much need there was for a community space where moms could do their personal work.
They ran a Counselling Support Group for Moms for two and a half years and, supported dozens of mothers until the group came to a close in 2018. According to one participant, "Nasreen and Shahaa are phenomenal in leading Breathing Space. They always have a wealth of knowledge, but also of wisdom and gentleness."

Now Nasreen and Shahaa work full-time in their private practice, where they support clients with a variety of challenges from life transitions to relationship issues. Shahaa sees individuals and Nasreen sees both individuals and couples. You can learn more about them and what they offer at
www.breathingspacecounselling.ca
.
Website:http://www.breathingspacecounselling.ca
Email Nasreen: [email protected] 
Email Shahaa: [email protected]
Facebook: https://www.facebook.com/breathingspacecounselling.ca/
Instagram: https://www.instagram.com/breathingspacecounselling/
Join our News Letter: https://us14.list-manage.com/subscribe?u=c1f772bb913114d0a8679b59a&id=8a57772e7c
Podcast